Dorms, classrooms and school area
How are the boarding schools at Elverum Folk High School? What does it look like at school, in the classrooms and in the area? What workshops and facilities are there?
Elverum Folk High School was built in 1928 and is located between Sagtjernet (Elverum's best bathing place) and Glomma - right by Elverum center.
The school has six dormitory buildings: Sørigard, Tjønnlia, Eidsvoll, Hovedbygget, Solbakken and Nordigard.
Sørigard is the newest boarding school, and was completed in August 2007. Solbakken, Tjønnlia and Nordigard were completely renovated in 2013, 2015 and 2018. Eidsvoll received a significant upgrade in 2014.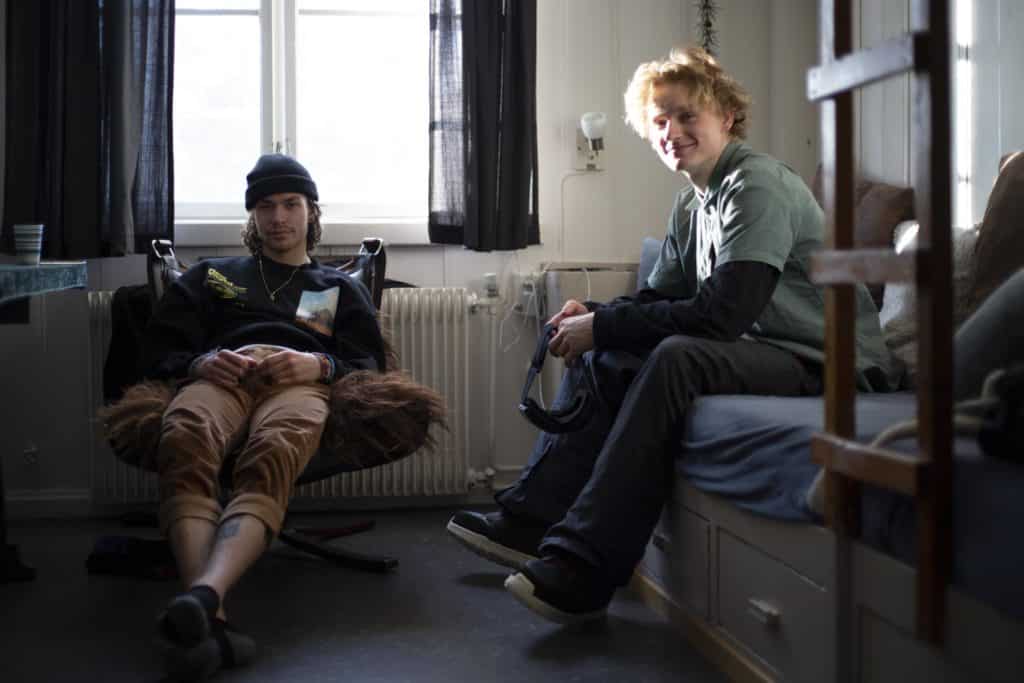 We have almost only twin rooms. When you apply for a school place, you can choose whether you want a room with a bathroom, or with a bathroom that several dormitories share - this costs somewhat less. We also have a few private rooms.
The boarding schools make up different house groups, and during the school year house group duels, cozy evenings and a lot of other fun are arranged in these groups. There is a division of boarding school cleaning and order within the house group.
At the folk high school, you get to know each other very well and get to know each other very well. Almost all students live in twin rooms, and we mix both lines and genders in the boarding schools.
Student rooms
At Sørigard we have two student rooms with TV, as well as a student kitchen. There is also a student kitchen and a student room with a pool table in the main building. In the Eidsvoll building we have a movie room with a huge selection of movies. In addition, there is a fireplace lounge. These rooms are accessible to all students at the school.
Classrooms and outdoor areas
In the school and the school area you will find many facilities that help to keep you active during the year.
Ute
The saw blade. Elverum's best bathing place with sandy beaches and diving tower is located in the "garden" of the school
Beach Volleyball Court
Skate ramp
Football court
Ski slopes. In the winter, a fantastic network of trails is being prepared that can be reached directly from the school
Railpark for skiing and snowboarding
Kitchen garden
Apple orchard
Basket
Other
The Great Hall. Scene with top sound, light and image
Lecture hall / auditorium with cinema facilities
Art workshops for painting, wood, ceramics, glass and print
Band rehearsal room
Music studio with Cubase
Rehearsal room for dance and theater with «black box»
Photo Studio
Dark room
Video editing room with lots of video equipment
Strength room
Library, with board games
Student rooms with TV and Apple TV
Student kitchen
Billiard room
Pictures from workshops and facilities
Elverum has a surprising amount to offer. Check out our "guide" to activities in Elverum