Study in Norway, learn Norwegian and experience Norway!
Learn the Norwegian language and experience the nature, culture (and adventures) of Norway's famous sights - with new friends from all over the world.
Good to know
Price
136 060 -En suite room
128 840 -Room with shared bathroom
About the course
You will be able to speak and understand Norwegian according to your own standards through suggestopedi - a quick and fun learning method.
You will learn about Norwegian culture, history, geography and society through exhibitions and by traveling and experience Norway fist hand. This year will be a nine months long adventure.
You will also learn to build and sleep in a snow cave, how to prepare food on a bonfire, how to make and sleep under a gapahuk (shelter), canoing, dogsledging and much more.
I love Elverum FHS. I have learned so much about Norway, and also about myself. The teachers are lovely and all the activities are exciting. I will never forget this year.

Camilla Scotolati, forms student
Suggestopedi is a method for faster and more joyful learning. By using music, imagination, humor, roleplay, songs, games and dialogues you increase your learning potential. We emphasize the oral language in class, but offer writing tasks you can do on your free time.
You will share a room with a Norwegian student and join the common and elective classes together with Norwegians. This gives you the opportunity to practice Norwegian language all day long.
Travel in Norway
Rafting in the river Sjoa, hiking on the Smørstab glacier and in Jotunheimen
Stavanger, Egersund, Lindesnes, Mandal and Kristiansand
Copenhagen
Tromsø, Hurtigruten and the Lofoten islands
Røros, Trondheim, Molde, Ålesund, Flåm Railway, Gudvangen and Bergen
Oslo, Hamar and Lillehammer
August / September: Rafting in the river Sjoa, Clacier hiking on Smørstadbreen, hiking in Jotunheimen national park.
September: You will visit Heddal stave church, Preikestolen, Stavanger and the Norwegian oil museum. We go fishing in Egersund, visit the Lindesnes lighthouse and meet a local artist in Mandal. In Kristiansand zoo you'll see Norwegian predators.
December: In Copenhagen, Denmark we will visit Rosenborg Castle, the marble church, the famous Tivoli, the bohemian freetown Christiania, the Christmas market and go for a canal boat sightseeing.
March: We will visit Tromsø, often called "the Northern Paris". Here we will - among other things - visit the Ice hotell in Tamokdalen and meet a Sami couple who will introduce us to the Sami culture. We will take one of the Hurtigruten ships from Tromsø to Svolvær in Lofoten or from Svolvær to Trondheim. This is a cruise along the northern Norwegian coastline.
April: You will experience the copper mines in Røros. In Trondheim we see the Nidaros Dome, the Rockheim music hall of fame and Tyholttårnet. We continue to Molde, Ålesund, The aquarium «Altanterhavsparken», The Norwegian glacier museum in Lerdal, the railway from Flåm to Vatnahalsen, the viking village in Gudvangen. In Bergen you will see the famous fish market and «Bryggen», Håkonshall and Rosenkranz tower, Fløybanen and «Trollhaugen» - the composer Edvard Grieg's home.
Regarding Covid-19
Because of Covid-19 and continuing changes in the infection situation, it is difficult to predict how it will affect the coming school year. We follow all advice and regulations from the authorities. We are planning for a normal school year, and for all travels to carry out as planned. But we will provide good alternative solutions if this is not possible. Destinations on study trips can be changed (including domestically) if natural disasters or other external and extraordinary circumstances occur which the school does not control, and which significantly affects the execution of the trip. No financial compensation is normally given for this.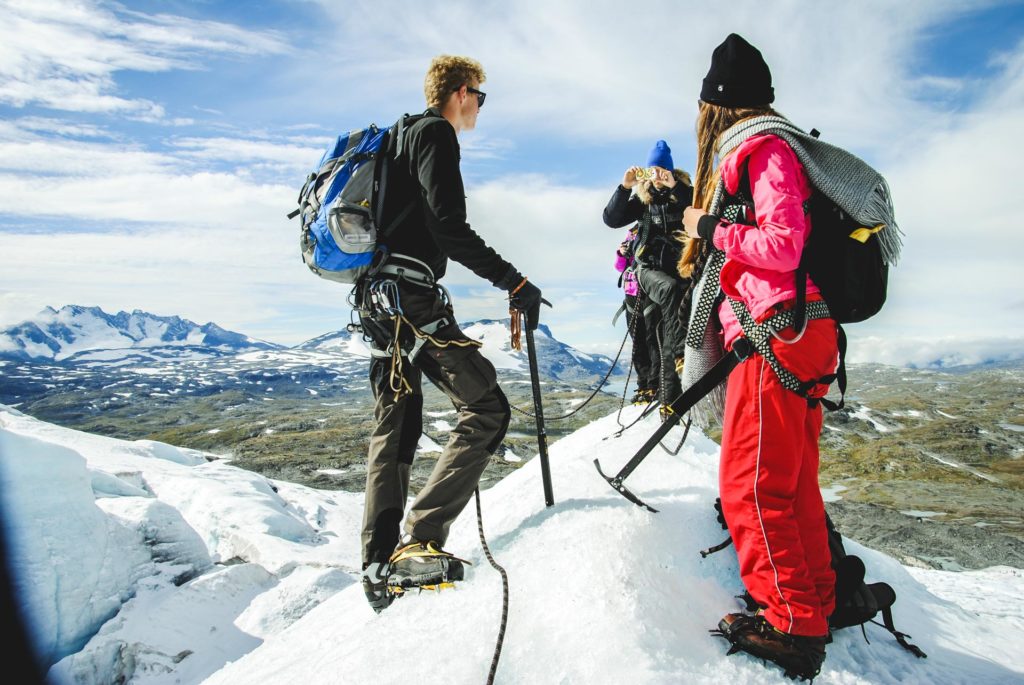 Ready to learn Norwegian, travel across Norway and meet new people?