Do you want to study art at folk high school?
Experience folk high school, art and culture! A professional meeting that stretches from urban Berlin to Lofoten's magnificent nature. You learn many techniques - both at school and around the world.
Good to know
Price
136 060 -En suite room
128 840 -Room with shared bathroom
Folk high school, art and experiences!
we emphasize creative expression in a variety of visual art forms, mixed with good experiences together with new friends.
On the line you meet other art lovers, and we learn a lot from each other. We also collaborates with other lines at school. You get to create a performance together with the Music Line, animation with the Photo Line, and experience Copenhagen together with the Norwegian - Culture / Adventure line.
You get to make your own knife with sheath, design silver jewelry, and shape unique glass balls.
With the study trips, we facilitate experiences that can inspire and provide experiences. We meet art, design and culture at workshops and courses, visiting exciting galleries and happenings. You get to explore many materials and techniques.
The school has a number of workshops
Art gallery / studio
Workshop for wood and silver
Ceramics workshop
Glass workshop
Dark room
Mac room for movies and design
Photo Studio
Art / experiences have given me good opportunities for development in art! You experiment with different media and techniques, and you have a fantastic teacher who comes with good feedback and guidance further in the process!

Charlotte Lucia Kristiansen, 2019/2020
You will learn this
Knife making
Shaping of glass
High pressure and gravure
Silver forming
Street art
Pottery
Redesign
Snow sculpture
Watercolor
Drawing
Oil paint
Stop motion animation
As
Screen printing
Mosaic
It's exciting when performing artists come and have courses for us!
Study trips with the art line
We focus on good experiences and gather lots of inspiration.
Lofoten
København
Berlin and Venice
In Lofoten we live near the sea, the forces of nature and not least the light. We blow glass balls and learn about the Vikings.
Copenhagen is the capital for Nordic design and we experience the contrast from the crown jewels at Rosenborg Castle to the free state of Christiania, at the same time as we study masterpieces at the State Museum of Art and have fun at the amusement park.
Berlin is a vibrant city. You will experience architecture, local street art, vintage shops and the impressive park area «Gärten der Welt». In addition, we see a spectacular show at Friedrichsstadt, the world's largest theater stage.
Venice is the city of beauty, magnificent architecture, canals and history. We look at modern art Peggy Guggenheim and takes the boat out to the famous colorful Burano Island.
Blog posts from the art line
Regarding Covid-19
Due to Covid-19 and constant changes in the infection situation, it is difficult to say for sure for the coming school year. But we follow all infection control advice and travel advice given by the authorities. We plan for an almost normal school year, and so that all travel can take place as normal. But we will work out good alternative solutions if this is not possible. Destinations on study trips can be added elsewhere (including domestically) if natural disasters or other external and extraordinary circumstances occur which the school does not control, and which significantly affect the implementation of the trip. No financial compensation is normally given for this.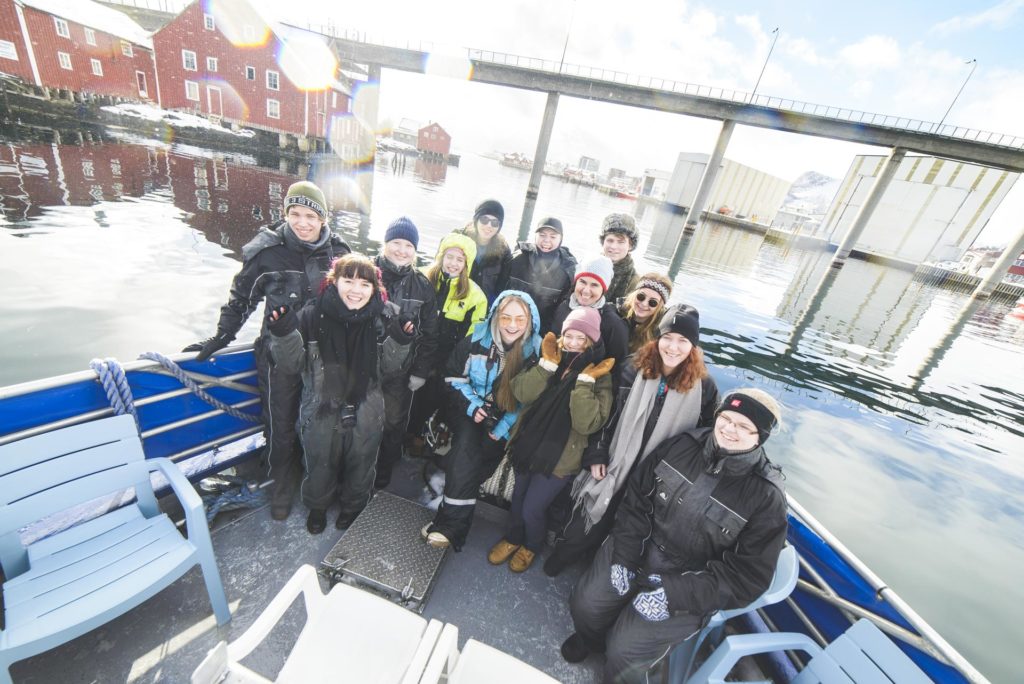 Folk high school and art let you unfold creatively and get to know new people!