Do you want to take a photo line at folk high school?
Experience folk high school and photography on the line Photo / Experiences. You get to develop as a photographer and learn about photo technique, composition, Photoshop, travel photography, studio, drone, exhibition, film, analog photography and much more.
Good to know
Price
139 430 -En suite room
132 210 -Room with shared bathroom
A year of folk high school, photography and experiences
On the photo line you get to explore many photo techniques. You get access to lots of different equipment, and we work in the studio, on location, when traveling and in the classroom. We adapt the level to your starting point, but start basic to get everyone involved.
On the line, you meet other photo enthusiasts, and we learn a lot from each other. We emphasize good experiences and collaborate with other lines at the school.
You get to create animation with Kunstlinja, film and photograph concerts and music videos with Musikklinja, do a fashion shoot with recycled fashion together with Afrikalinja, create player portraits of Handball and take action photos of Snowboard/Freeski and Backpacker/Extreme sports in Trysil.
At the photo line, you need a digital camera (SLR or system camera) and a laptop. You get a license for Adobe Photoshop on your machine for the whole year. You get training in several programs, and we do everything from basic cropping and color correction to advanced image processing and manipulation.
Photography and film go hand in hand, and you get to make films from study trips in addition to the projects with Art and Music. In addition, we run multi-camera production at concerts and events throughout the school year.
Your best photos will be included in the exhibition, and we end the year by creating an online portfolio and showcase. You can use this to promote yourself as a photographer, or if you want to apply for further photography education.
There is room for everyone on the photo line. Manual settings, Photoshop and Bridge are just some of what you learn, and together we create a good environment.

Jakob Grjotheim Hareide, photography student
The teaching is practical, with the necessary theory at the bottom. We want you to photograph as much as possible, and you get good follow-up.
Key words for the year are:
Camera technology
Image composition
Flash, lighting and studio photography
Editing and manipulation
Analog photo and darkroom
Travel, travel photography and travel film
Street photography
Nature and landscape
Portrait
Concert photo and film
Star photo, star trails and northern lights
Light painting
Timelapse and stop exercise
Double exposure
Film production and Davinci Resolve
Display
Interested in analog photography?
Check out our guide to starting your own darkroom!
You get to develop as a photographer and person, together with 130 other young open people. The photos you take throughout the year are valuable memories of good experiences.
Study trips with the photo line
Cold Hawaii and Aalborg, Denmark
Roros
Lofoten
Interrail from Budapest to Copenhagen
Cold Hawaii and Aalborg, Denmark
We travel to Dune mills on the west coast of Denmark. The small town is a world-renowned surf spot called Cold Hawaii. You get try surfing, and we photograph the fantastic beaches with bunkers from World War 2.
We travel with the Backpacker/Extreme Sport line. We collaborate to create travel vlog and visits Aalborg, among other places.
Lofoten
Lofoten considered by many to be one of the world's top ten destinations. In March, the light is returning, and the colors are amazing. You join in the hunt for northern Light and spectacular nature, sea safari in the Trollfjord and photographing sea eagles. We go on a road trip to famous photo spots and samples "arctic surfing".
Roros
We experience The "mountain city" Røros, known for mining, charming streets and TV series such as "Home for Christmas". In Røros municipality you can find the national parks Femundsmarka and Forollhogna. The town of Røros is on Unesco's list above world cultural heritage.
Here we go experience the culture and nature, take portraits and of course get into the Christmas spirit.
InterRail
Europe has "everything", and by bus and train you can see an incredible amount in a short time.
We start in Budapest. The city offers magnificent buildings, monuments and spa baths! And not least a good view of the whole from Gellert Hill and Fisherman's Bastion. The city has an important place in European photographic history, and we see exhibitions at the House of Photography - Mai Mano haza - and the Robert Capa Museum. In addition, we experience world-class jazz music at the Budapest Jazz Club.
We travel together with Musikk - Band/Vocal line, and along the way we record music video to their self-produced songs.
You join in the planning where the tour continues from Budapest. Do you want to visit cities like Berlin, Vienna, Bratislava, Ljubljana or Prague?
Last stop is København. A city that offers everything you could want in terms of sights and city life. You get to experience Tivoli, Nyhavn, night photography, canal boat, great architecture, alternative Cristiania, ice cream with custard and much more.
Regarding Covid-19
Due to Covid-19 and constant changes in the infection situation, it is difficult to say for sure for the coming school year. But we follow all infection control advice and travel advice given by the authorities. We plan for an almost normal school year, and so that all travel can take place as normal. But we will work out good alternative solutions if this is not possible. Destinations on study trips can be added elsewhere (including domestically) if natural disasters or other external and extraordinary circumstances occur which the school does not control, and which significantly affect the implementation of the trip. No financial compensation is normally given for this.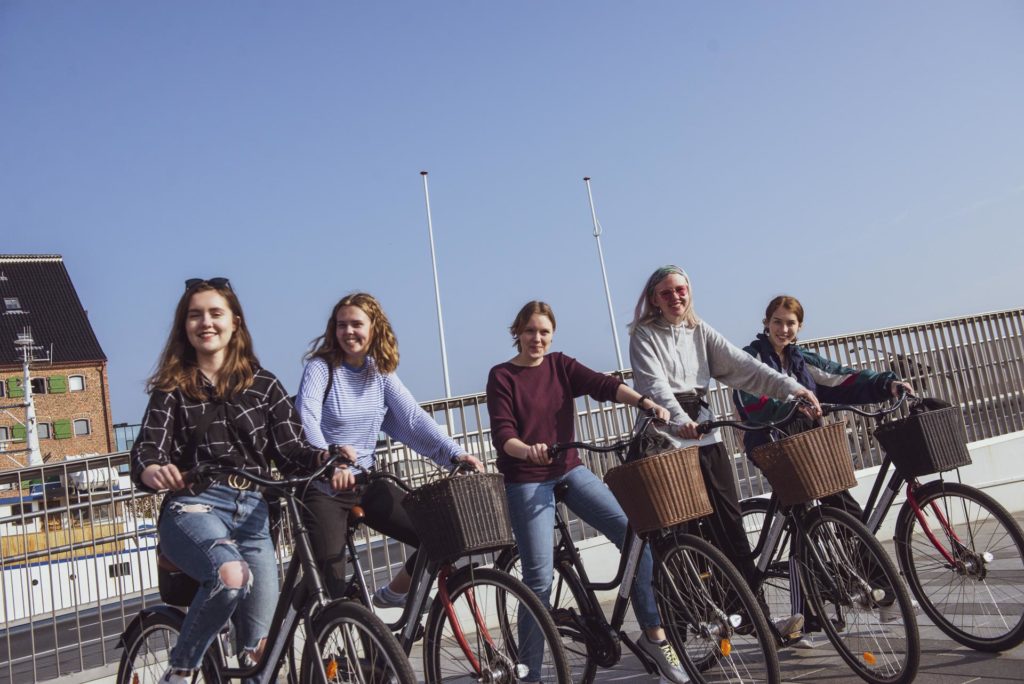 Folk high school, photo line and experiences with other young people?