Do you want to take the backpacker line at folk high school? What about the extreme sports line at folk high school?
You get folk high school, backpacking and extreme sports on the line Backpacker / Ekstremsport. Experience surfing in Norway, Denmark and Portugal, backpacking in Europe, skiing and snowboarding in Trysilfjellet, kiting, canyoning and much more.
Good to know
Price
148 480 -En suite room
141 260 -Room with shared bathroom
Folk high school, extreme sports and backpacking
A year of social life at folk high school, where you also get to try several different extreme sports activities. During the autumn, the focus is on various water activities and in the winter you develop your skills on snow. Surfing takes place on Jæren, in Denmark and in Portugal. Skiing and snowboarding take place in Trysil and the Alps. You will receive training in equipment, technique and safety from the school's teachers and hired professional instructors. On the line, you get to challenge yourself based on your level in the various activities.
Through backpacking, you get to experience a lot in a short time. We focus on good trip planning, because we will travel safely, environmentally friendly and economically. Planning and travel take place jointly and in small groups. After each trip, we share experiences, photos and film to learn later and take care of the memories.
At Elverum Folk High School, there are plenty of dedicated and fun teachers, friends for life and so much more. If I had been allowed, I would have stayed at school for the rest of my life and learned new, exciting things every single day!

Synnøve Bysveen, 2019/2020
Equipment for backpacking and extreme sports
You get season tickets in Trysilfjellet - Norway's largest ski resort - which can be used freely also outside the teaching. The school has its own rail park for boards and skis, with a large selection of elements for different levels. We produce snow as soon as the cold temperatures come. You can borrow a wetsuit throughout the school year. At the school we have kite equipment, indo-boards and a slack line. We have video editing rooms and film equipment.
At Backpacker / Ekstremsport you get to experience surfing, kiting, mountain hikes, skiing, travel and an introduction to trip planning. Together we perpetuate the knowledge and experiences we get!
Study trips with backpacking and extreme sports line
Klitmøller
Scandinavian
Femunden
Interrail in Europe
Spain / Portugal
We start the school year with a bang! The water ski park at Hamar in combination with activities in the area.
Surf trip to Cold Hawaii, Klitmøller. Denmark's west coast is world famous for good surfing. We live in "Cold Hawaii" and post several surfing sessions every day. Check out the surf camp here.
Interrail tour in Scandinavia. We travel in small groups, where you get to experience Scandinavia's highlights.
Kitecamp at Femunden. Group trip with kite training on Norway's second largest frozen lake.
Interrail in Europe. We backpack through Europe and meet in the Alps to ski or board.
Spain and Portugal. Backpacking in small groups that end up at a joint surf camp in Portugal.
Regarding Covid-19
Due to Covid-19 and constant changes in the infection situation, it is difficult to say for sure for the coming school year. But we follow all infection control advice and travel advice given by the authorities. We plan for an almost normal school year, and so that all travel can take place as normal. But we will work out good alternative solutions if this is not possible. Destinations on study trips can be added elsewhere (including domestically) if natural disasters or other external and extraordinary circumstances occur which the school does not control, and which significantly affect the implementation of the trip. No financial compensation is normally given for this.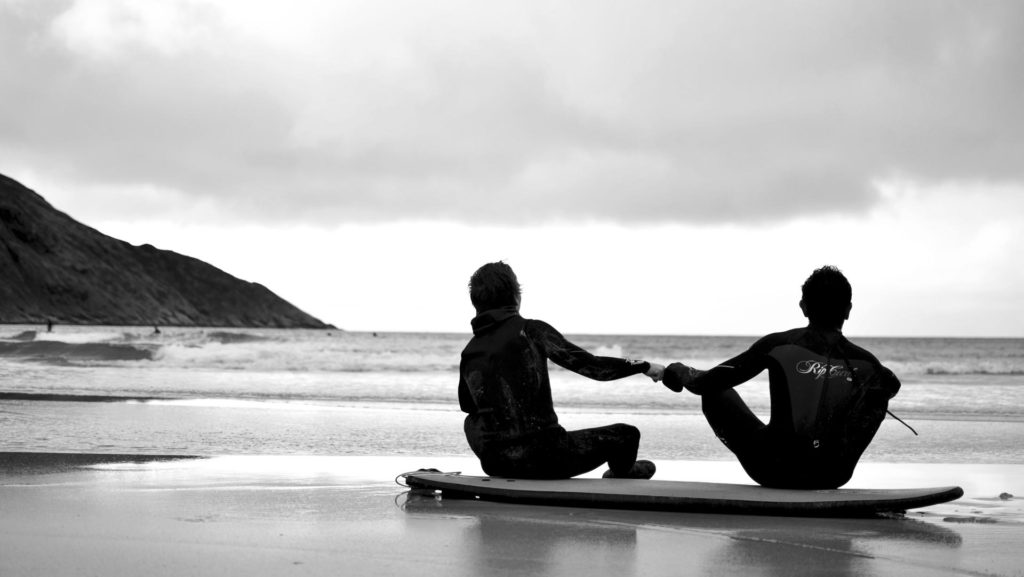 Ready to challenge yourself with folk high school, backpacking and extreme sports?