Elverum Folk High School's aid projects
Elverum Folk High School works actively with assistance throughout the school year. All lines are involved in raising funds for the projects, and Africa - Aid / Culture works specifically with this. The line travels to Uganda to follow developments and see the results. 100% of the funds raised go to the projects.
Rwenzori Elverum Educational Center (REEC)
Since 2005, Elverum Folk High School has run the aid project Rwenzori Elverum Educational Center, a school center in Kasese, southwestern Uganda. The school has nursery, primary and secondary level, with students from 3-18 years old.
Do you read the page on a PC? Our Vipps number is # 88831.
You can also support projects on account number 3000.32.34475.
Folkehøgskolen contributes with financial support and guidance, and will function as an "image" - a model for the school to strive for.
School buildings and sports facilities
Every year, the students at the folk high school collect money and equipment for the center. The money goes in full to the aid project, and has since its inception gone to erecting school buildings with classrooms, canteens, kitchens, dormitories, libraries and toilets. In 2013, a sports facility was completed. Here is a football pitch specially developed by the Norwegian Football Association to be easy and cheap to maintain. In the autumn of 2014, the library was renovated, reorganized and reopened. In the spring of 2015, a new floor of the primary building was completed.
With the help of Romerike FHS and funds from Hvam VGS, we got a new valuable kitchen, as well as secured water supply with tanks to sanitary facilities, kitchen and canteen in the spring of 2015.
In connection with the football field, we have employed five people at the facility, and REEC has got its own football club - SC Bronken. This happened in July 2015.
Agricultural project
We opened a new Agricultural project in 2017 where everything is grown from vegetables, berries, fruit and coffee. There is a separate fish pond, beehives and classrooms for secondary students. The project has two massive water tanks and an irrigation system - which also provides water to the poor villages in the immediate area. In 2020, we acquired a tractor and two permanent employees.
Tourism
Former students at Elverum FHS have taken on a tourist project, and built a restaurant, trained young boys in cooking and built a guest house. There are trails ready for tracking up to Mount Margeritha 5170 masl, and in the summer of 2021 we hope that Rotary International and Rotary Kongsvinger will help with a large water tank that provides supply to the buildings and small villages around.
Day and boarding school
At the school center REEC, there are over 800 school places. Around 200 students come from the villages and mountains around the city, and live at the school boarding school. Pupils who cannot afford the education, we support school uniforms, meals, school materials and boarding school if necessary.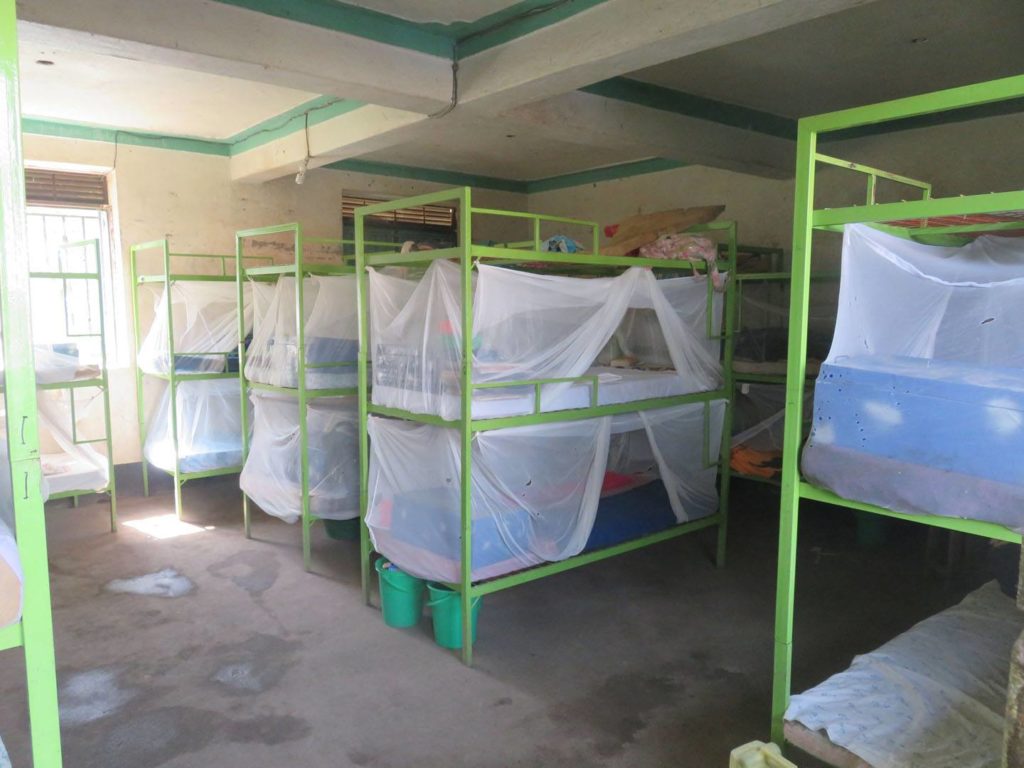 Ripple effects for the local community
The school project creates ripple effects for the local community, not just through the educational offer. The school creates jobs for more than 30 teachers, as well as kitchen staff, canteen workers, librarians and guards. In addition, the school creates jobs through development and maintenance, and all goods and services are purchased locally. In agriculture, there are 20-30 part-time jobs for the unemployed. The football offer has an outreach program which means that several thousand children and young people receive the necessary activity offer. There are also new jobs at our tourism project in Kilembe.
Follow-up
Every year, the folk high school - represented by the line Africa - Aid / Culture - travels to Kasese, to visit and follow up the project. It is this line that has the main responsibility for the project together with line teacher Geir Prøven, and the line content is largely related to the project.
Every year, the charity race "Active for others" is arranged, a collaboration with over 2000 students from the primary school in Elverum. During the school year, a number of other fundraising projects are also arranged, including "Marathon weekend", bottle collection, "reverse Christmas gift" and performances for kindergartens / schools. In addition, both Elverum Handball and Elverum Football are very involved in the project, together with many other local companies in Elverum.
Future prospects
In the short term, the goal is to complete all buildings at the school, the sports facility, the agricultural project and the tourist project, so that the focus can be increased on maintenance, skills development and guidance. The main goal is for the project to become independent and be able to operate independently of the folk high school - preferably during 2022.
Bwera - Uganda
We help a school in the city of Bwera, on the border with Congo. We have built classrooms and provided electricity and better sanitation. There is a lot to tackle here and Elverum Folk High School will in 2020/21 try to get Åmot municipality - which has a friendly relationship with Bwera - to improve "Rena School".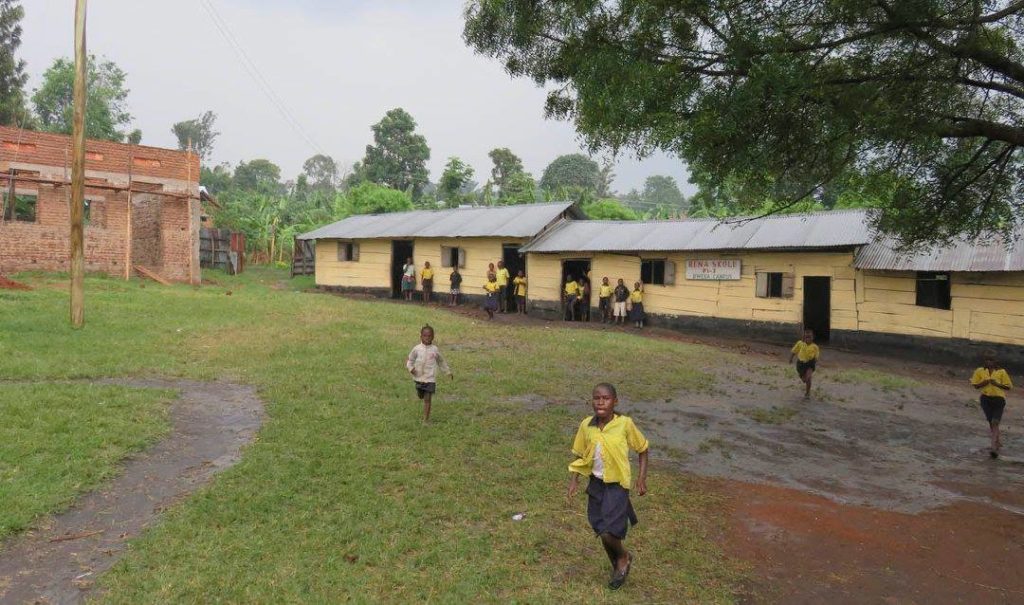 Namibia
In Tsumeb, we collaborate with kindergartens in "The Black Location" on competence development. We have built a new kindergarten at Sanfolket in Ourwood, with access to water and providing easy assistance for daily operations.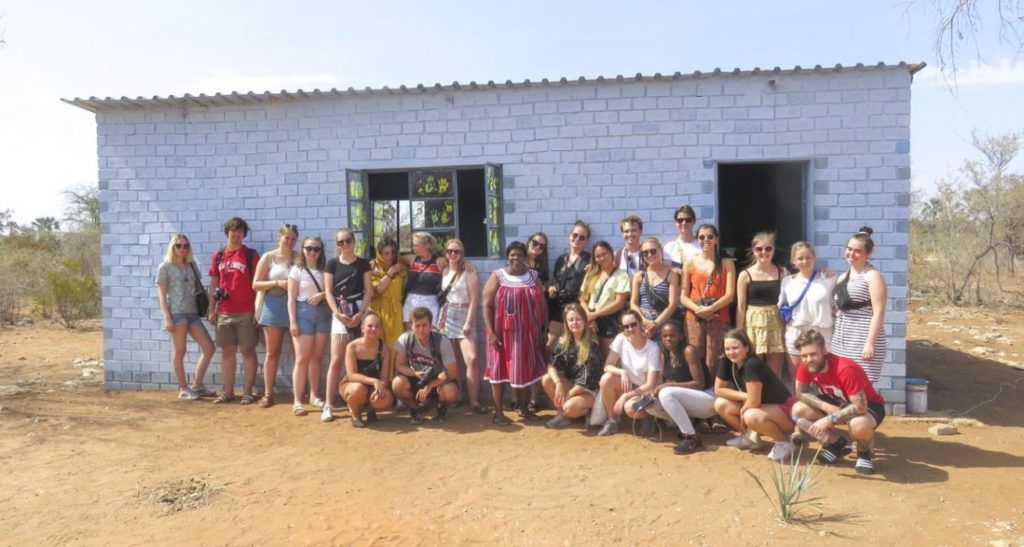 Holidays and assistance
We have a scheme where both former students and others without a direct connection to the folk high school can travel to Kasese to work voluntarily with the school project. This provides a fantastic opportunity to experience and learn, while at the same time contributing positively to the local community. Uganda offers unique wildlife, rich culture and great opportunities to travel on exciting excursions.
In 2015, for the first time, a retired couple traveled to Kasese to assist the project with their expertise. This has resulted in repeated trips to Kasese and a major contribution to both the school and agricultural project. We have great faith in this type of contribution, and want to invest more in it.
Do you read the page on a PC? Our Vipps number is # 88831.
You can also support projects on account number 3000.32.34475.
Takk!