FAQ
We give you answers to the most common questions many have about Elverum Folk High School.
At Musikk - Band / Vokal it is a prerequisite that you can play an instrument (vocals are considered an instrument) or work with music production digitally.
At Snowboard / Freeski, basic skills are an advantage.
The handball line is suitable for you who are an active handball player at the 1st, 2nd or 3rd division senior level. Or is an active U-20 (19/18) series player and has experience from Bring- (16) or Lerøy series games (18).
On the other lines, no prior knowledge / skills are required.
Elverum FHS has a lower age limit of 18 years. As the pupils are 18 years or older, this means that the school has a duty of confidentiality. This also applies to parents. If information is to be provided, the school must be released from the student's duty of confidentiality.
The admission of students starts on 1 February. We send out the offer by email. Applicants have ten days to say yes or no to the place. Every year we have a very large number of applicants, and more than we have room for on most lines. In order to have a greater chance of getting a place on a specific line, it is a good idea to apply early and have a complete application with all relevant attachments.
You can apply for a school place from 1 October, admission starts on 1 February, and we send out offers continuously until all lines are full. There is no application deadline, and admission continues as long as there are vacancies.
Yes, you get a diploma.
Yes, you get two additional points for the folk high school year. But to get the points, you can have no more than 10 percent absence.
It all depends on your own consumption.
You can e.g. go to your online bank and see how much money you have spent on average in the last few months on hygiene / toiletries, mobile subscriptions, snacks, clothes, etc. It is a good starting point to know how much it is likely that you will spend at folk high school.
Note that the school serves four meals each day (three on Sunday). There is wi-fi on the school grounds and electricity is included in the tuition fees. On a study trip, accommodation, food and program are included.
YES, the school is approved by the State Loan Fund for education, so you can get a full loan and scholarship.
There are no additional expenses except for students at Africa Aid / Culture, for vaccination prior to travel to Africa.
The cost will vary from person to person based on which vaccines you want to take, and which vaccines you already have.
How much it costs to go to Elverum Folk High School depends on which line you choose, and whether you have a room with or without a bathroom.
Office Address
Elverum Folk High School
Strandbygdveien 143
2409 Elverum
Mailing Address
Elverum Folk High School
PO 1629
2409 Elverum
To have mail sent to the school, ask the sender to use the postal address and mark the consignment with your name.
You can read all the school's rules in our student handbook.
All students participate in practical work, normally one week of the school year. Here the student gets an introduction to some cooking, washing, cleaning and caretaker services. This is part of the learning program.
The student does not follow the normal teaching plan this week. The boarding school manager administers this in collaboration with the operations manager, house group teachers and supervision teachers.
The pandemic is still a topic, but at folk high school you can be social!
We have written a blog post to answer how the coronavirus affects folk high school life.
No we have not. We have teachers who follow the students closely, and who are well used to talking to young adults. If there is a need for follow-up beyond this, we refer to the health service, in the same way as we do if someone gets physical ailments.
Feel free to read this article if you are interested in our thoughts on folk high school and mental health.
Yes, students can be visited by friends or family who do not go to school.
For guests, all the same rules apply as for students.
The guest must pay for accommodation and all meals he eats at school.
Accommodation must be agreed with the boarding school manager. As a general rule, it is not possible to spend the night in a student room.
The student is financially responsible for his guest.
At Elverum Folk High School, we are concerned with giving you varied and good food - whether you are vegan, vegetarian, have a diet or not. We have created a separate page with an example of a weekly menu and much more here:
No, the school is closed on all holidays.
Autumn holiday
Christmas Holiday
Winter holiday
Easter holiday
Saturdays are usually school day.
Sundays are usually free, but in the theme weeks there is also school on Sunday. Some other exceptions may also occur.
Mandatory attendance is usually finished at 13.00 on Saturdays, and you can arrange the rest of the weekend as you wish. Note that there are often social events at school on the weekends, which you are advised to attend.
Yes, you can get leave. An application for leave is sent to an inspector who processes it on the basis of current absence regulations. One can, for example, be given leave with a valid absence to travel to celebrate a birthday at the turn of the year in close family, wedding, doctor, specialist or dentist class. Such absence appears on the diploma, but gives the opportunity to travel.
If you have work as a shop steward, are to do political work, relief work, statutory meetings, representation in events at national or international level, for example in sports or culture, you will be given leave on application to an inspector. Such absence does not appear on the diploma.
In Norway, there are Christian and free-spirited folk high schools. Elverum FHS is free-spirited, and is not affiliated with any religious organization.
At Elverum Folk High School, students should experience that they are seen and have value regardless of religion, orientation, gender, culture, political opinion, background or disability.
Note that Christian folk high school is not the opposite of free will. The Christian and free-spirited schools largely share values.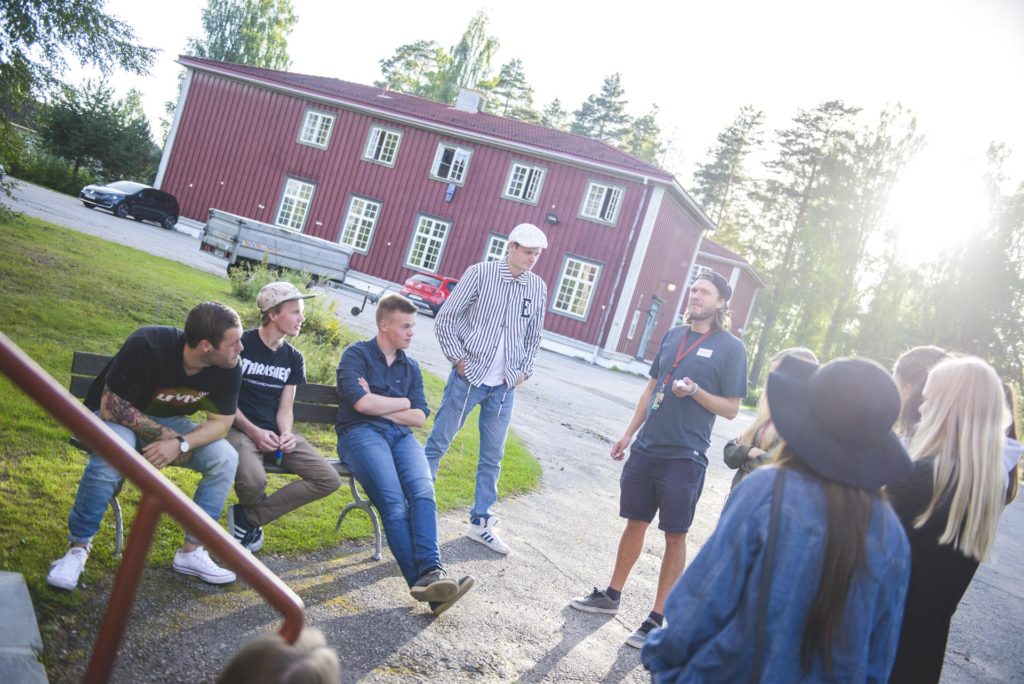 Do you have more questions?
If you do not find the answers to your questions, please feel free to contact us.