Music - Band / Vocals
Music on tour with self-produced songs on tour around Norway
A small diary from the music students' lives on the road - with the music teacher's comments
The beginning of the beginning
Monday 14.03 - Skjeberg FHS, Sarpsborg (238 km)
Monday was the first day of our tour, and we spent the morning packing the car full of equipment together with line teacher Arild and sound and lighting technician Kjell Roger. When we left we had a small mini stop because we had to have buns, Leon had not remembered his wallet so we had to be his bank in the meantime. The first place on the trip was Skjeberg, a small place near Sarpsborg.
We were very excited and maybe a little nervous, so the first concert was a bit "hollow to the brim" with a bit of forgetting of lyrics and chords. But we eventually got in and the concert still turned into something good anyway.
At Skjeberg, Arild, our excellent teacher, talked to famous colleagues, while Leon and I became celebrities for a day and got to know many new people.
After the concert, we were shown around the school by the students we got to know and found lots of fun and games. Leon ended up playing with them until late at night, while I called it a day.
Note to self, day 1
Pugg text
Pugg text
Pugg text
Do not stop, stand in it and finish
Teachers corner
This concert required many weeks of preparation, first and foremost on producing enough own songs to fill the concert. We also worked hard with workshops in songwriting, singing lessons and interaction in the week before the tour and had a great pre-production rehearsal with full set-up, sound check, concert review and down-rig with full reflection round afterwards.
This laid the foundation for the concerts to go as well as possible… but it is one thing to do it in a safe environment here at school and another to do it live in front of the audience. It was the most useful experience after this first concert, and an incredibly important experience.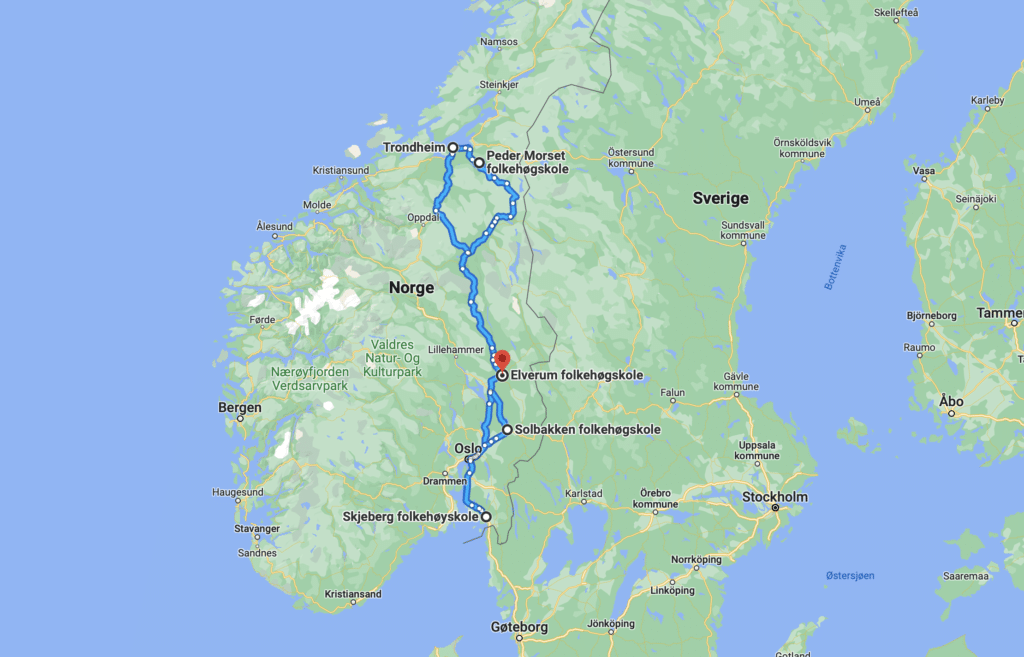 «A luminous hill»
Tuesday 15.03 - Solbakken FHS (167 km)
On Tuesday we woke up at Skjeberg, ate breakfast and joined in the word for the day. After a tour, we had to clean the car, and got help from new acquaintances at Skjeberg. Despite a very nice visit, we had to get to the next "gig": Solbakken FHS at Skarnes.
Upon arrival, we started by unpacking the car and setting up equipment on stage. After that we were a well-deserved slap fisherman and took life in stride on the couch.
This concert went much better. The audience was extremely lively and cheered and clapped throughout the concert.
Even today, it was very nice to talk to folk high school students afterwards. As a bonus, we broke our own "downrigging record", as we only spent half an hour from the first cable spin until everything was in the car.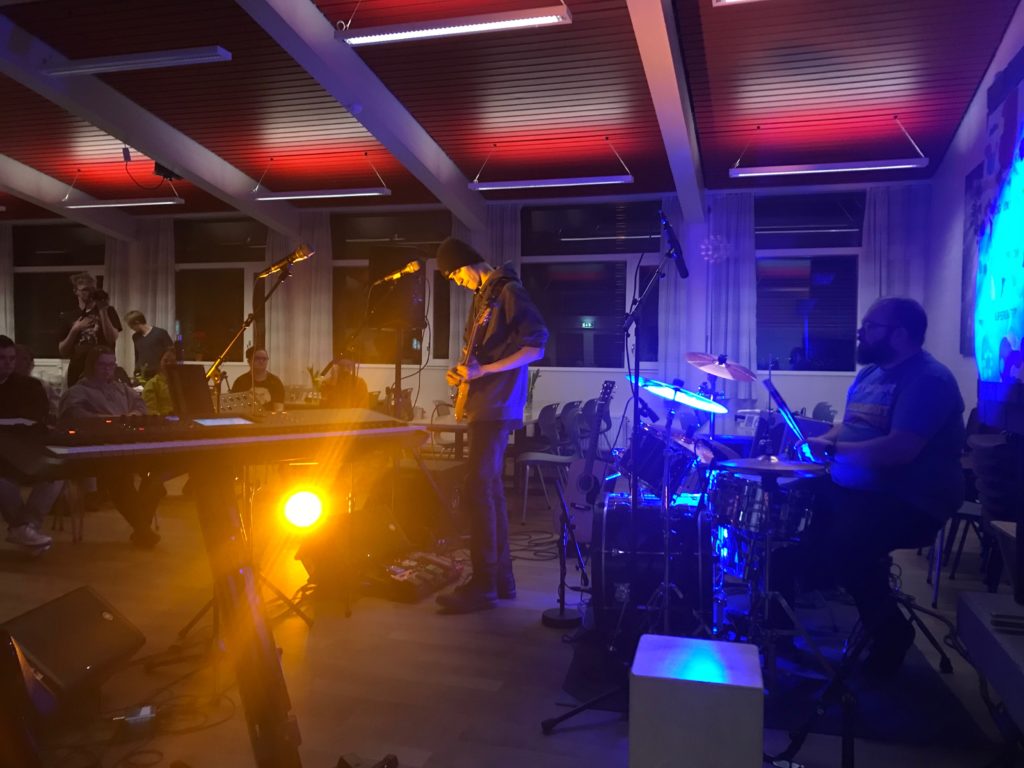 Note to self, day 2
It helps to have a concert "under your belt"
Always nice to meet people
Appreciate a good audience!
Teachers corner
Playing touring is about adaptation and learning from the mistakes of yesterday. This became a completely different setting, with a much smaller audience, a more intimate setting and a room with rather poor acoustics. Errors from yesterday were learned and eliminated to a great extent. The audience was fully involved, also thanks to the fact that those who were on stage were more present and could include the audience into their world. The acoustics were arranged with a few more people in the room and a good sound technician.
Thus, this became the concert with the best artistic content. Proud teacher… 🙂
Read more about the line:
Best concert so far
Wednesday 16.03 - Peder Morset FHS, Selbu (389 km)
The next tour destination was Selbu, a small place near Trondheim. This was perhaps the longest drive so far for both driver and passengers, but we took our time and filled up with road food. On the trip we saw a lot of beautiful scenery and the cultural heritage city of Røros (it was also good sleep).
We were well received when we arrived in Selbu, and we started unpacking and rigging up. Now it went very efficiently, and we have got a good routine.
The form of us musicians was not at its peak when it was time for the concert, but "the show must go on" so I said "fuck it", took a Paracet for the head and drank lots of water.
The concert went great and actually much better than expected!
When we also got homemade juice and cake after the concert, the evening was perfect. In the end, we sat with Arild and Kjell Roger on a sofa and just chatted together and had a good time, until we finally had to go to bed.
Note to self, day 3
The show must go on
Do not eat lactose if you can not tolerate it
If you are going to play a tour, you need to prepare for a few hours by car
Teachers corner
Traveling is a bit tiring. The clue is to use these hours well. Prepare mentally for a new concert, go over uncertain moments and maybe check if the guitar is still properly adjusted after a few days in the car. It is also about taking as good care of your own health as possible on these trips, otherwise it can be a challenge as it was then.
But it is also good learning that it is entirely possible to deliver good artistic even on a slightly bad day. It's about the right focus. It is also very fun to see when everything practical with rigging and packing has been automated. It's fun to work, when you know what to do!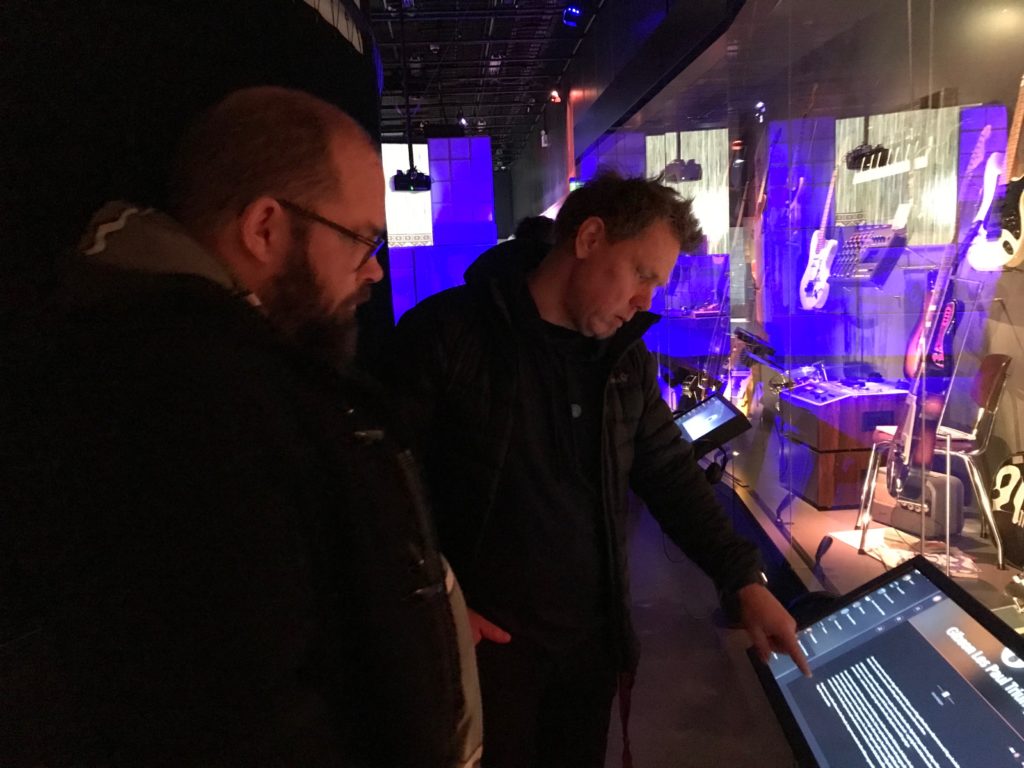 The end
Thursday 17.03 - Trondheim – Elverum (412 km)
Now it was time again to have breakfast and pack the car - this time unfortunately for the journey home.
On the way we visited Trondheim, where we were at Rockheim, among other places, saw Nidaros Cathedral and had dinner in the Tyholt tower (creds to soundman Kjell Roger who joined despite fear of heights).
When we finally got home to Elverum, we packed things out of the car and into the band room and the main hall. Afterwards we were allowed to be with Kjell Roger to his warehouse and carry the last things there. And with that, it was the end of a very nice tour, with the nicest people I could have had a tour with.
going
Note to self, day 4
If you are going to drive a long way - make a trip of it
Sound engineers are people too
Rehearsal works - you get better for every concert
Teachers corner
This has been a long process. There has been a lot of new knowledge and experiences along the way, which will be useful in the development work of becoming as complete a musician as one can become. Students are left with:
Compose a melody with chords
Prepare a text that works and that makes sense
Arrange the song for multiple instruments
How to record backing tracks
Singing technique and presence on stage
Logistics, packing, rigging and rigging
Preparations for what happens before, during and after the concert
Live concerts are happening now, and require full focus
Touring is demanding but fun