Life at school
Everything you need to know if you are applying to Elverum Folk High School!
We have created a guide for you who have applied, or are considering applying.
"The best year of your life", "a year off", "a year with new friends", "a year you grow up"…
There are many descriptions of folk high school, and the school year has different meanings for different people. But it is not a "year off" - the days are full of subjects, activities and social happenings.
Some choose folk high school to grow, some to be childish. Some choose to immerse themselves in a subject, while others try something completely new and unknown. You need to know what is right for you.
---
Our lines
You primarily search on a line. If you wish to apply on several lines, enter 1st choice, 2nd choice etc. in the application form.
Click on a line to see content, pictures, films and study tours.
---
Electives
We have over 30 electives each year that you can choose from. You choose subjects for one semester at a time, so you get to try something before Christmas, and something else until the summer.
In addition to electives, we have joint subjects that are compulsory for all students, and a themed week each semester where all students take part in a project.
---
What does it look like at the boarding schools, at the school and the surrounding area?
Elverum Folk High School was completed in 1928 and has always been a folk high school. The school buildings are full of history and old charm, but in recent years we have completely renovated and refurbished most dormitories and dormitories.
---
How do I apply, and how does the recording take place?
All applications are sent via folkehogskole.no. There you will also find lots of useful information about going to folk college, and information about all schools and lines.
On the first of February, we will start sending out offers for school places to as many as we have room for on each line. It is therefore advisable to apply as early as possible.
IMPORTANT: There is no application deadline. We accept students as long as there is room, so just apply during the spring and summer!
Read more details about application and admission in the article below:
---
What is folk high school?
Exam-free
Grade-free
Boarding school - you live at the school
You get a diploma and two credits
The overall goal of the folk high schools is education. Education is everything that helps to shape us into people who master everyday life, participate actively and positively for those around us and who reflect on the world and our place in it.
We know, it sounds great. And that's right, because education is part of everything we do on the line, at the boarding school, when we have room cleaning, when we travel on a study trip and have to find the subway in a big city or when we discover new sides of ourselves. do you want to know more? Read the article below.
---
How much does it cost?
Our lines cost an average of NOK 135. The loan fund provides a scholarship of NOK 370, so the total is actually NOK 45. This is for dormitories, electricity, internet, all meals, transport, electives, excursions, social events and all study trips on the line you choose throughout the school year of nine months.
We have set up an example that shows what it costs to live from home for comparison.
| What | Per month. | Nine months |
| --- | --- | --- |
| Rent | 5 000 - | 45 000 - |
| Electricity | 1000 | 9 000 - |
| Internett | 500 | 4 500 - |
| Food | 3 000 - | 27 000 - |
| Transport | 1 500 - | 13 500 - |
| Cost, living away from home | 11 000 - | 99 000 - |
| Cost, community college | 9 983 - | 89 850 - |
In this example, we have been careful. Many people pay significantly more for rent, electricity, internet, food and transport - and the expenses can vary from month to month.
More about price and economy in this article:
---
Finally…
Did you know that we have our own climate agreement to become a greener school? Or that you can try yourself as a flexitarian while you are a student here? Are you curious about our rules or the school's aid projects in Uganda, among other places? Visit our collection page for information and click on all of the articles.
Good luck with your application. Hope to see you next school year!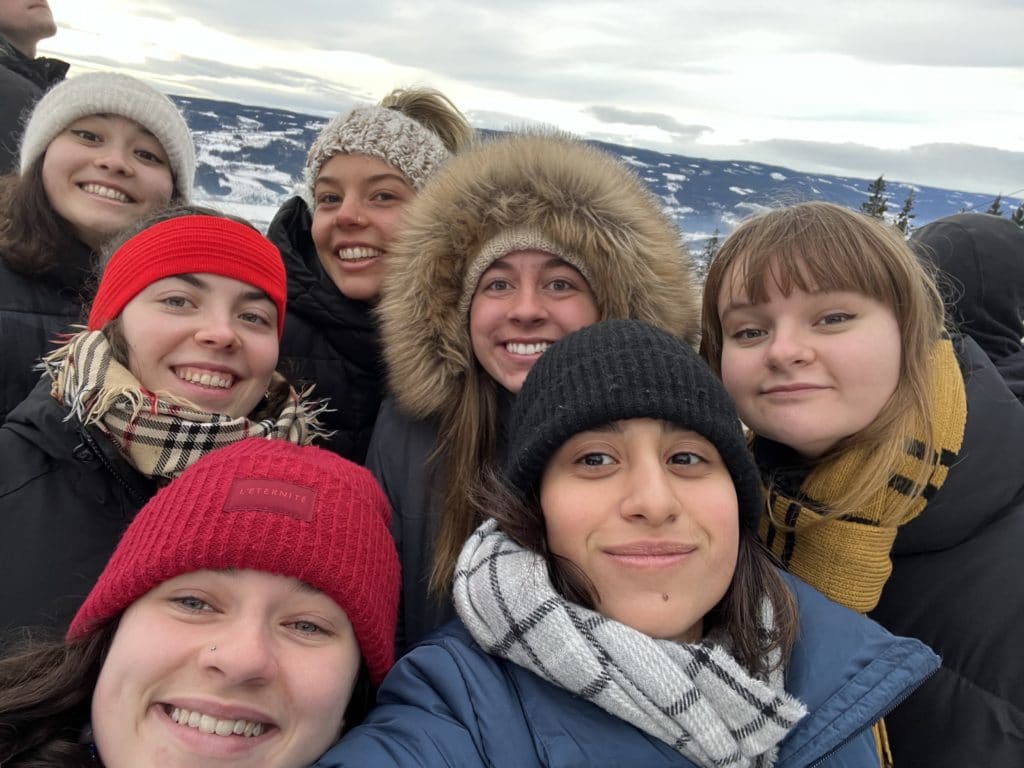 Aid Sustainability History Upcoming Events NCFU Norwegian Celiac Association Study tour