Africa - Aid / Culture
Madeleine and Synne ready for voluntary work in Africa
Meet Madeleine and Synne, who both attended Afrika-Bistand/Kultur. In January, they and four others from the litter that left this spring travel to Kasese to have a meaningful holiday. How did they fare at school, on the bus, at the boarding school - and did they learn anything?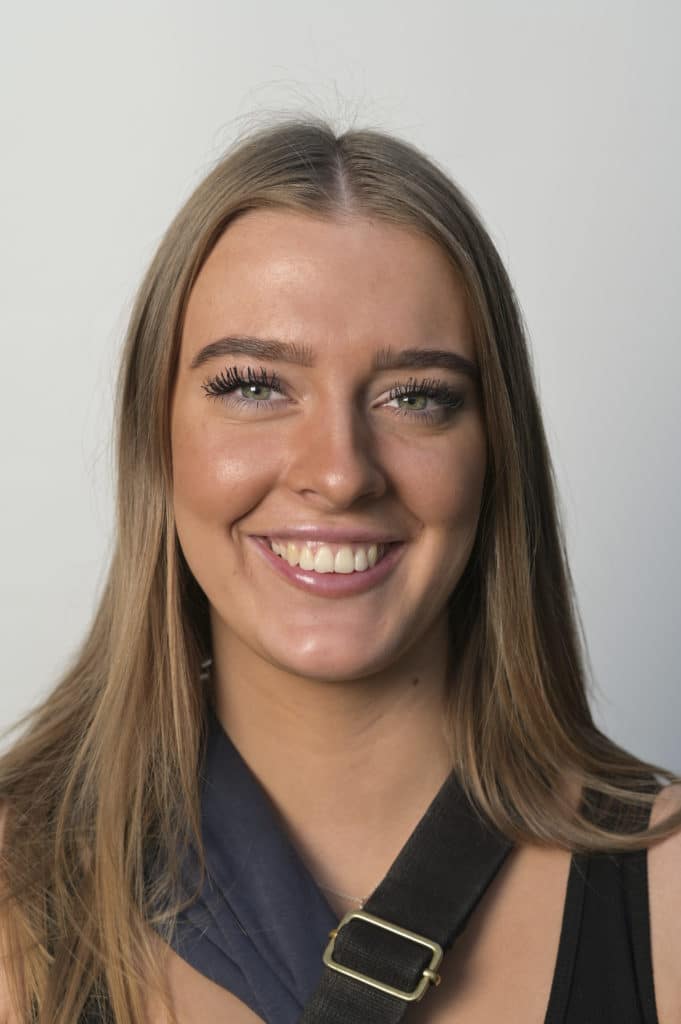 Synne W. Rustad
Age: 20 years
Comes from: Nesodden, Viken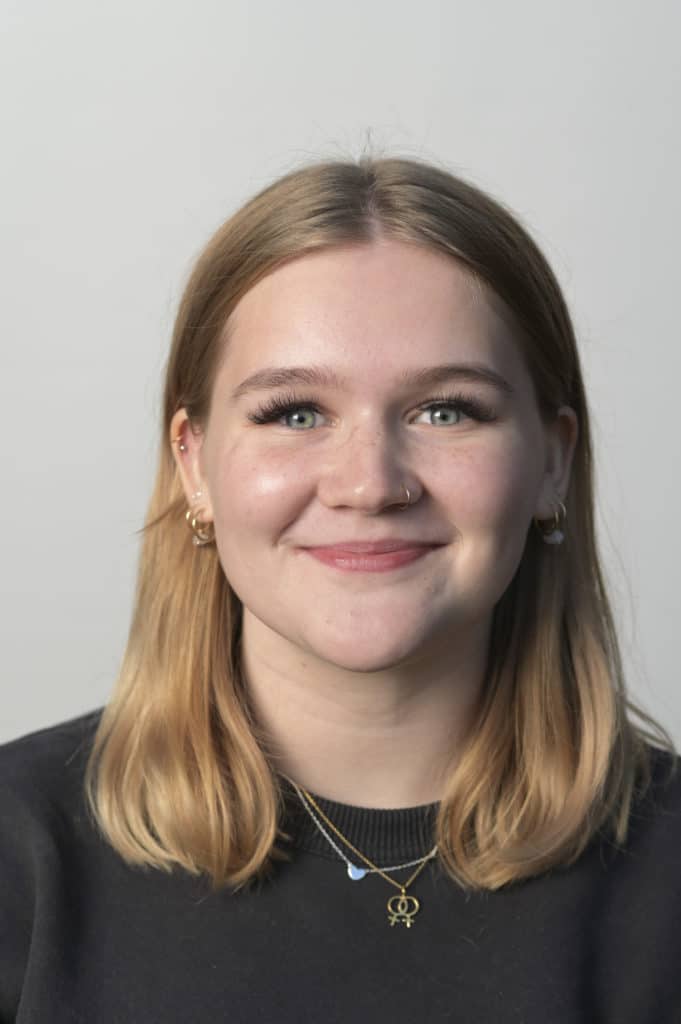 Madeleine Guttormsen
Age: 20 years
Comes from: Kråkstad, Viken
How did you experience the first week and the meeting with the Africa Line?
M: Oh, a bit of a blackout I would say, says Madeleine and explains: I can't believe I could feel so safe and warm so quickly! After a week I thought that I have now been here for a month and have become so fond of many people.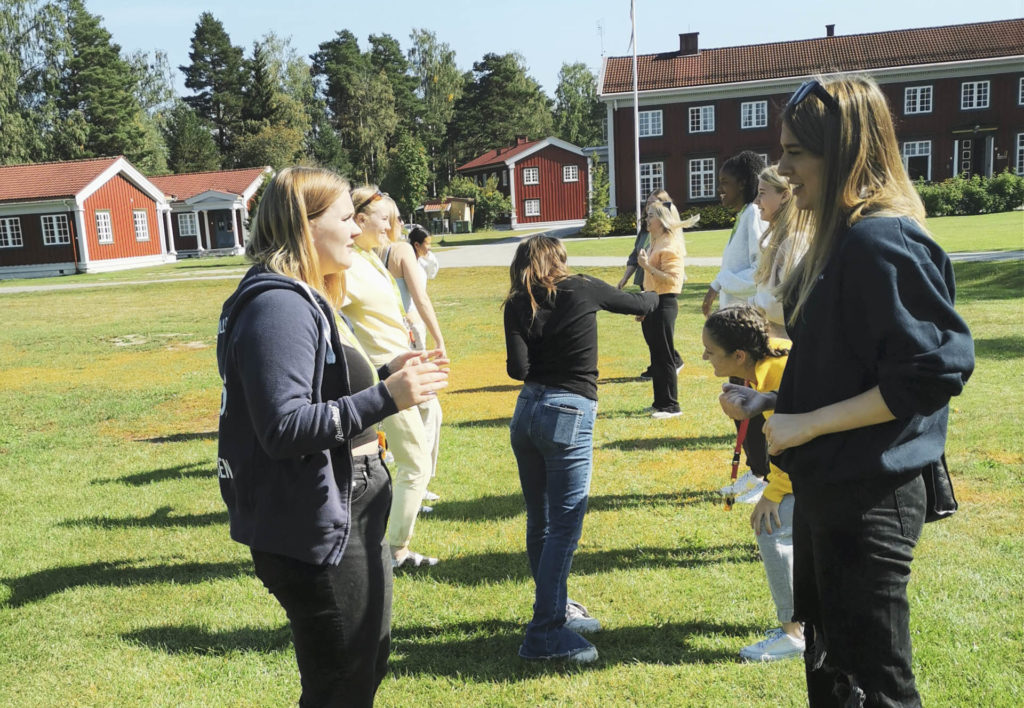 S: And I forgot everything I had been stressed about and that others probably were too. I was pretty sure I had made the right choice right away.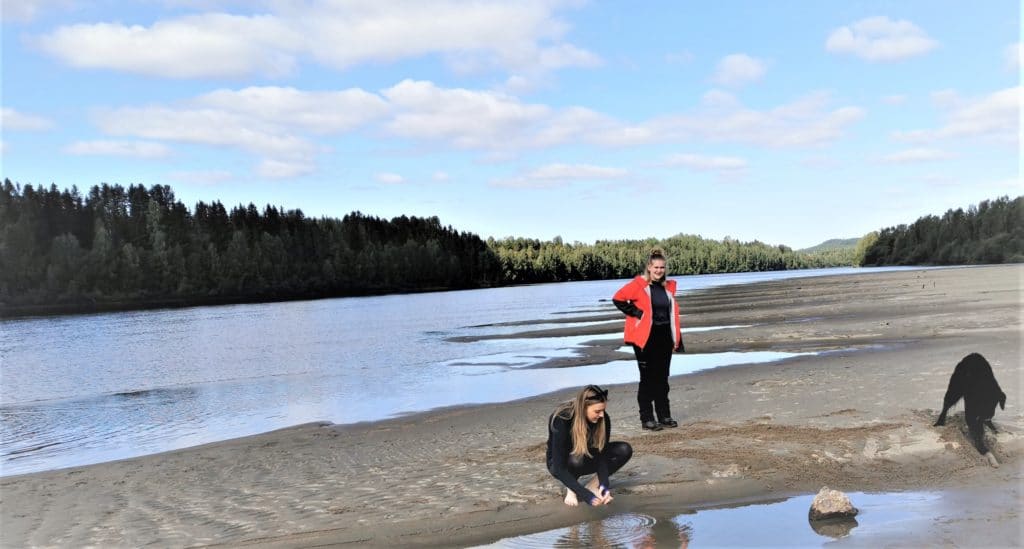 How would you describe a normal day on the Africa line?
S: Walk'n'Talk - where we walked and stopped for necessary information breaks, about, for example, the study trip to Uganda. Nice way not to drown in information, says Synne.
S: We started each day with a joint assembly for the whole school with "Word for the day" and a song. It was a great start to the day.
S: On "Afrika" we often had discussions with funny cases where we have to reflect on our own values, or a documentary that triggers our emotions. Then there may be a few days of Swahili courses (Swahili is the most widely used language in East Africa, where we travel on a study trip) or cooking African food.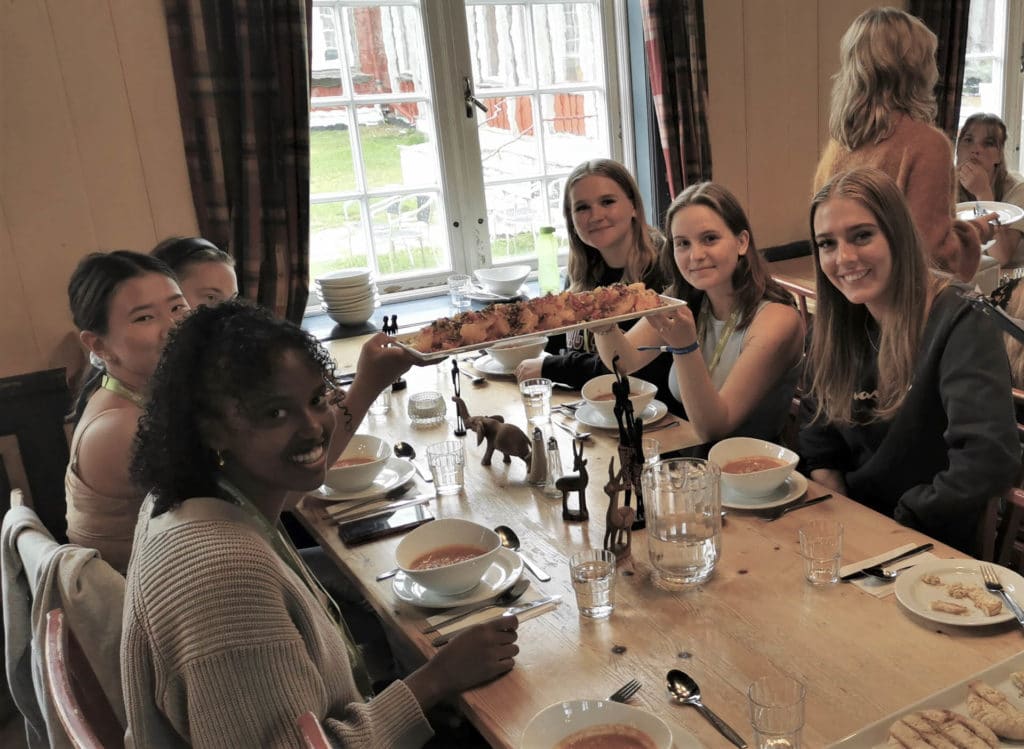 S: An important topic was "Pedagogy for the rich", where we focused on our own consumption, and we had group discussions with "Golden Moment" themes. For example "What would you like your friends to do for each other?".
M: Oh, I love such tasks. Don't forget drama and role-playing or "write and burn", where we could write and vent about things we were thinking about, before we burned the notes and left it behind. We have also had group work on planning a dream trip to Africa.
S: Yes, not all of this on the same day, but we think we tried a lot, says Synne and laughs. And I think the whole gang lived under the motto "We offer".
Read more about the Africa line
To what extent did you challenge yourself at EFHS?
M+S: In many good ways. Forced socialization sounds bad, but it was just fun, both answer quite synchronously.
S: Especially during the Theme Weeks, when we met many people across the lines and boarding schools. It was really just about becoming a bit of a YES person, throwing yourself into all the events and program evenings. The fact that we lived close to so many people was a bit of a challenge, but very nice, says Madeleine. I am so glad that I decided to digg to say YES!
Why did you apply for Elverum Folk High School and the Africa line?
M: First and foremost because there were many courses and electives - then you will meet a lot of different people.
S: I was fascinated by the school's aid project in Uganda. I probably always wanted to learn more about it. And that's why both Madde and I, plus two more from Africa and two from Foto, are going down to Kasese again in January 2023. Lions Elverum supports the aid project so that we get a cheap and hopefully wonderful 3-month "holiday" with a lot of voluntary relief work.
S: And then the school was so nicely located, with a short distance to bowling, euro padel, forest with ski slopes and hiking terrain, swimming pool and cinema. The center is close, with cafes and shops. And then we can watch Champions Leauge matches in handball! Moreover, I think it is very nice that we were "friends in everyday life" for single elderly people. We had a lot of good conversations and we heard that this talk was great for the old people.
What was educational at Africa Aid/Culture?
M: First and foremost, how little it takes to help others - in schools / kindergartens in Africa and Norway, visit elderly lonely people. And how easily we can raise a lot of funds for our projects.
S: Agreed, and I have become more grateful and aware of what I have. And then we became better at discussing both internal conflicts and other important societal issues. And so many exciting new things - here at school and on the study tours in Africa and Norway.
What do you think is good aid and what methods did you use to collect money?
S: I naturally think what we did here was good. 100% of the money was spent on the projects, that's really cool. And then we got to see with our own eyes how the money was spent in Kasese. Also a reason why we want to go down again
S: The projects are no bigger than the folk college having control over, for example, corruption. I also liked that we tried to buy most of the goods and equipment in Kasese to strengthen the infrastructure, instead of bringing B goods from Norway.
M: "Active for Others" is one of our largest sources of income. It is an aid race for the primary schools in Elverum.
M: We also had a separate aid marathon at the school where the students gathered sponsors and worked on an activity for 28 hours. In one day we brought in over NOK 230 - just by having fun -!
M: And then we had our own Spleis on the line and got a new school from another municipality on Aktiv for others. There were only 18 students, but they collected NOK 30. Cool! And then I liked that we had the theater "Nissejakten" for kindergartens before Christmas, and opened the Christmas street in Elverum with excerpts from the play.
S: We also sold different Christmas gifts for over NOK 25. Such as mosquito nets, chickens, goats to name a few.
We have collected more than half a million kroner! I think it's good.
M: Yes, we have pledged bottles from the school for more than NOK 10!
Do you have anything to say about the school's electives?
M: There was a very large range of subjects. I had hunter training, yoga, dance, ceramics, friends, darkroom, Pilates, language café, film club and skiing/snowboarding...
S: And I had Glass Fusing, Choir, Strength, Football, Knitting, Crochet and many of those that Madeleine said. I didn't become a pro at any of them, but you get to try so many different things.
Some new applicants are excited about whether they are good enough for this line?
S: As long as you have some commitment and do your part of the "hard work" then ZERO STRESS! You don't need any prior knowledge. No one was stupid here and it felt good to care a little. It is of course an advantage that you want to do something nice for others...

Have you started with future plans?
M: Yep, we're both going back to Kasese in January to volunteer with the school's aid project next year for 2-3 months. It is a great opportunity to gain a lot of life experience before the seriousness and studies begin. And for a holiday: Cheap and rich.
Do you have any good tips for this year's students and new applicants?
S: Join in on things! Meet up! You get this far with commitment - zero stress.
M: Be open to new experiences, you always get a new experience. "Offer" - that was our motto! Remember that scary things can become very good.

Anything else you value at school?
S: We feel mustn't say the teachers, haha. But I mean it seriously. We became very confident with everyone, and they were so different, but also so similar. Maybe a little special humor now and then?
M: And we understand that they want us well, Madeleine concludes.
At the time of writing, there are 40 days until four students from Afrika-Bistand/Kultur and two from Foto travel down to Kasese to volunteer for three months. Then this year's group comes down and together we go out to Lamu - this Muslim idyllic and car-free island in the Indian Ocean. We who are going here this year are looking forward to meeting all six to hear how they have been. Good trip Madeleine and Synne!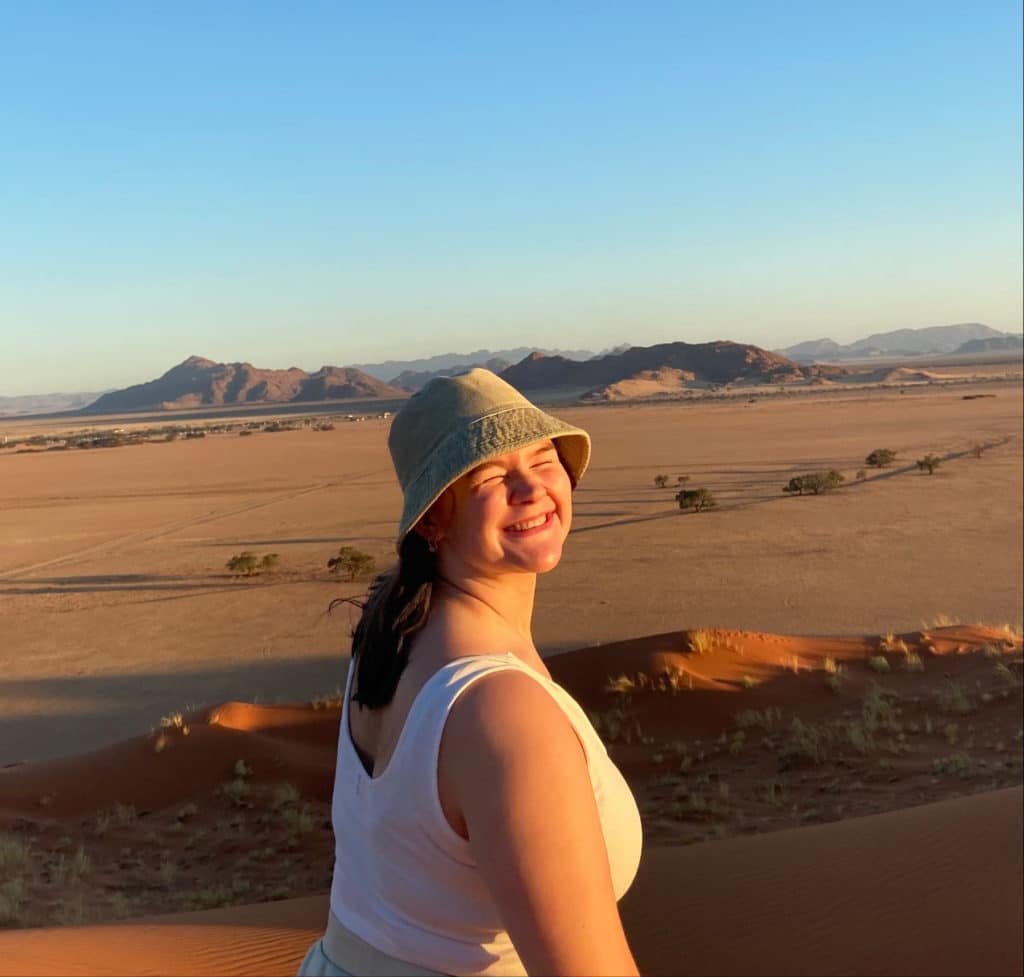 Do you want to experience a year like Synne and Madeleine's?
Aid Sustainability History Upcoming Events NCFU Norwegian Celiac Association Study tour