Africa - Aid / Safari
Africa - a different and wonderful half year
Summary of spring 2021
The time from New Year to the end of school has passed very quickly. As a line, we have had more time together than ever and it has probably strengthened already great, everlasting friendship for us in Africa - Aid / Safari.
What happened? We have raised NOK 500 for our aid project in Uganda. This has been more important than ever, and in collaboration with the schools in Uganda, we have made a good plan for the correct use of the funds - both for the schools, the football project and our agriculture. At home at school, we have had many professional discussions and exciting value debates. Walk`n Talk (where we go for walks while we discuss / inform) has worked very well.
Collaboration with other lines:
We had an exciting fashion photo shoot with a focus on reuse together with the photo line. Everyone got to buy an outfit from the second-hand shop "Namibia shop" in Elverum. We produced great pictures, and together with the clothing collection we put it all into a very creative and fantastic exhibition. In addition, the groups presented factual material on reuse / multiple use. A successful project collaboration between the Namibian Association in Elverum and Africa and Photo at our school.
Another very good day with Foto was Dog sledding with 23 Siberian huskies at Budor on Hedmarksvidda. After useful information about the dogs and guidance on dog sledding, everyone got to try to drive a team, and to sit on the "sluff". A great day with a lot of dog food and barbecue in the homemade Lavvo.
We also had two fun activity days together with Norwegian -Culture / Adventure. Inspired by the King's Commander and Kompani Lauritzen, there were good group assignments and the ability to work together increased for each new assignment - whether they were physical or more IQ-testing.
Tours:
Africa - Aid / Safari had two pleasant trips to the undersigned's cabin in Engerdal. With light academic content and a lot of good education through cooking, games, skiing / snowboarding and lively discussions. Cleaning and washing the cabin indicated that the cleaning skills were approaching high dice rolls!
We also had time for a nice trip to the Lillehammer region where we visited the Olympic Museum on Maihaugen, and a fast-paced meeting with the bobsleigh and toboggan run at the Olympic facility in Øyer. The next day we went to Ankerskogen Badeanlegg in Hamar, then to Domkirkeodden with guiding and Gregorian chant, and finally a physical blowout at Rush trampoline park.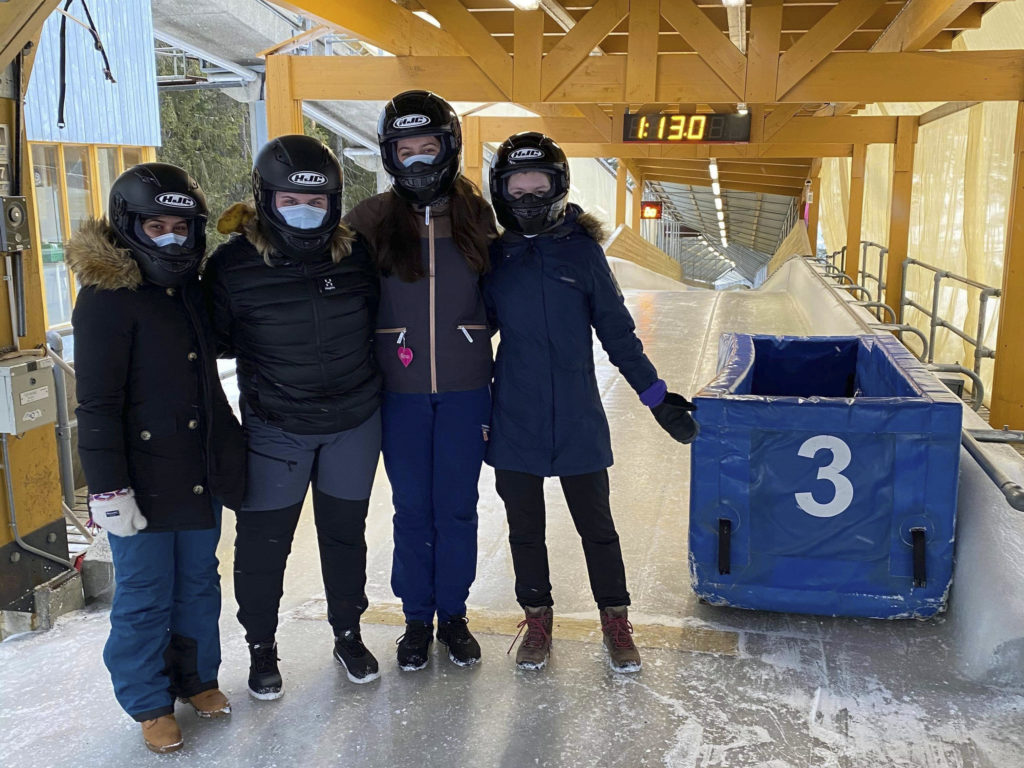 We ended with a trip to Sørlandet and two nights in Abra Havn in Dyreparken. A very good program where we got close, and learned a lot about African animals such as cheetahs, giraffes and lions. The Mara Naboisho project is a great development project on the savannas of Kenya and Tanzania, which the Zoo supports annually. It aims to protect the majestic animal walks between the Masai Mara and the Serengehti.
The second day we went to Evje and Trollaktiv where rafting was the main attraction. A very wet but hilarious day, interspersed with escape room and bow & arrow. We ended the day on the way home with a strong meeting with the Archive (House of Horrors) in Kristiansand. A guided tour of the war museum with a torture chamber and strong stories of resistance work. But also about defectors on both sides during World War II in Sørlandet.
The week trip ended with Paintball at Starmoen in Elverum, and a perfect day at Klatreparken on Helgøya - coincidentally with Arbeiderbeveglsen's FHS.
The consumption of tea / coffee has been large, and it should be when small and large world problems / conflicts are to be discussed - and and preferably resolved.
Bergen Aid Sustainability Flam Gudvangen History Upcoming Events NCFU Norwegian Bremuseum Norwegian Celiac Association Study tour Troldhaugen Vatnahalsen Ålesund